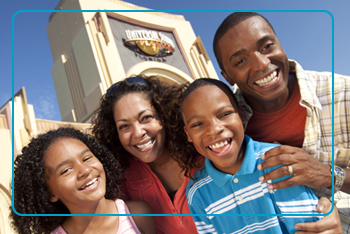 Universal Studios Orlando offers death-defying stunts, dancing dinosaurs, characters on parade,  and the sultans of soul. So, grab a seat. It's all about to begin.
Our quick and full-service restaurants offer everything from snacks like churros, soft pretzels, ice cream, and soda, to elegant gourmet cuisine.
The entertainment continues with a bank run by goblins, play midway games with your favorite animated characters, and watch epic cinematic moments projected onto waterfalls at a dazzling live show.
With so many great places to shop, you can take home more than just memories from Universal Orlando Resort™.
Take a moment to rejuvenate, pint-sized play areas perfect for a mid-day break can be found in both of our theme parks.  The splashtacular water fun and courses are meant for exploring.
Get your camera ready because our parks are full of famous characters waiting to meet you and pose for priceless pictures.
SEE TICKETS LISTED UNDER CATEGORY/TICKETS ON SIDE MENU